Main content starts here, tab to start navigating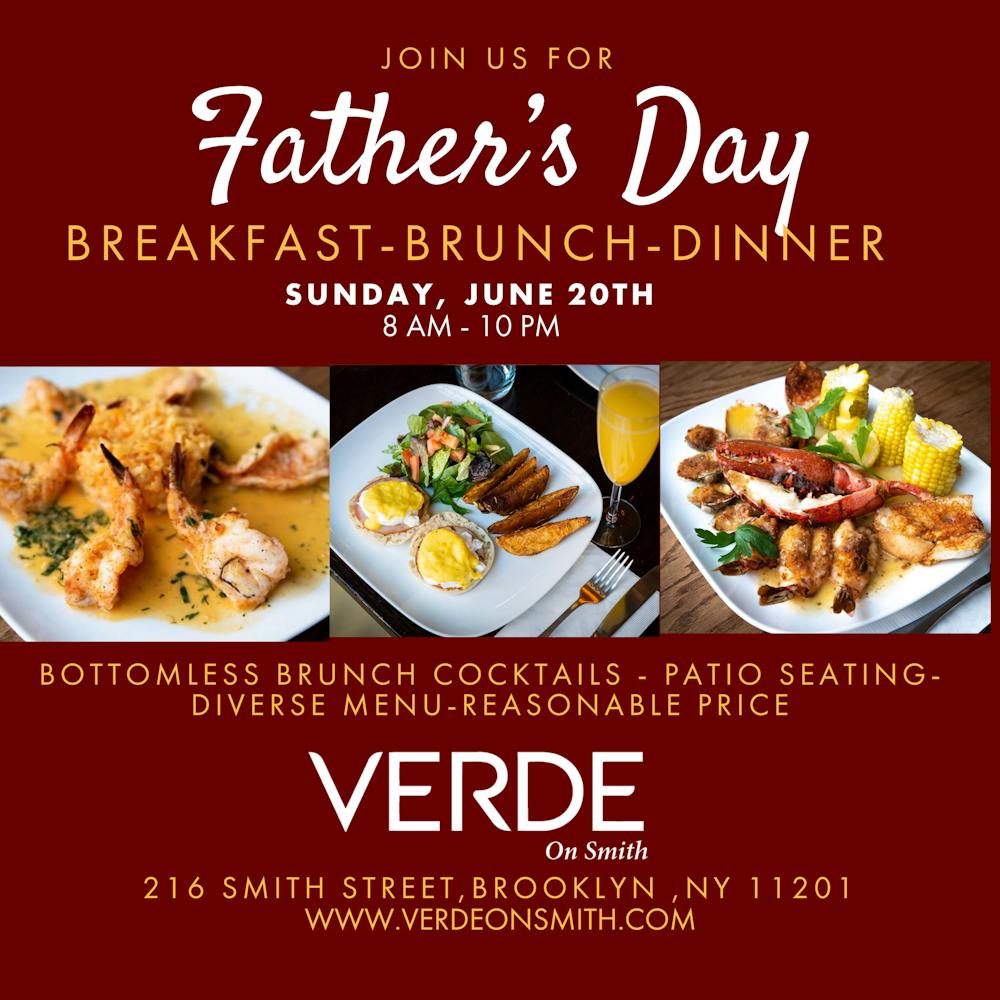 FATHER'S DAY at Verde on smith


Join us on Sunday, June 20 for Father's Day breakfast, brunch and dinner.
We are celebrating all the great fathers in our lives with special food, drinks
This Father's Day treat your superman to a delicious breakfast, brunch, or dinner at Verde on Smith downtown Brooklyn.The Best Italian Restaurant and Brunch Restaurant in Brooklyn, NY
On Sunday, June 20th, join us for brunch from 8 am to 4 pm, and
then for dinner from 4 pm to 10 pm.
During brunch, we will be serving our famous bottomless cocktails and regular brunch menu, which a perfect treat that's refreshing and beautifully paired with the summertime weather.
For dinner, we will also be serving our regular menu that features tasty appetizers, fresh salads, classic Italian & American chicken dishes. Savory seafood and homemade desserts. Along with extensive wine and cocktails list.
With our extensive menu choices, highest quality sourced ingredients, and delicious specials, a meal at Verde on Smith can complete your Father's Day in Brooklyn, NY
Mother's Day reservations are now being accepted for DINNER ONLY.
CLICK TO RESERVE YOUR TABLE

PLEASE CALL 718 222 1525 for more info.
NO LARGE PARTIES
WE CANNOT ACCOMMODATE ANY PARTIES LARGER THAN 6.
We kindly ask that a 60-minute (BRUNCH) & 90 -minute (DINNER) table limit be observed by all guests due to limited seating.
Please notify us in advance of any food allergies or special preparations that may be needed.
We thank you in advance for choosing to spend this extra-special holiday with us at Verde on Smith! We love to celebrate all versions of moms, especially on their special day! We look forward to seeing you on June 20th!